Promotions
Frais de port
0,01 € pour toute livraison en France*
à partir de 30 €


(*hors DOM-TOM)
Meilleures Ventes
Seminar in english » Robert McKee's Seminar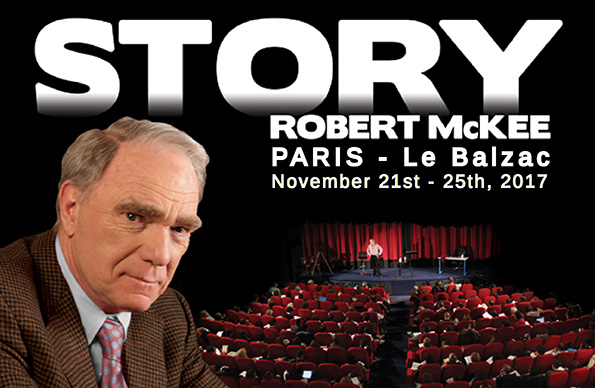 Paris - Champs Elysées
(5 days)



In english, with a simultaneous translation in french

Ideal for Screenwriters, TV Writers, Novelists, Playwrights, Filmmakers, Directors, Producers, Documentary Makers, Actors and more!

We invite you to join us for four stimulating and information-packed days with Robert McKee as he reveals the essential elements of story design that help separate great stories from the rest of the pack. Using examples from over 100 films, in addition to television shows and novels, Robert McKee demonstrates why structure and story design are about form and principles, not formulas and rules.

Each 4-day Story event runs Wenesday, Thursday, Friday and Saturday , beginning at 9:30am and closing at 7:00pm each day.

Two-time Academy Award-winning screenwriter William Goldman wrote, in his most recent book, "It's four full days over a single weekend, and no one feels cheated when he's done. I wish he had been around when I started writing CUT TO for a living."

Bestselling novelist Steve Pressfield simply said, "McKee is not only the best teacher of writing I've ever had, but the best teacher of anything."



Robert McKee © dixit.fr
STORY SEMINAR
AGENDA
PLACE
Day 1 : 8:00 AM- 9:00 AM
---
Registration
Day 1 : 9:00 AM- 7:00 PM
---
The writer and the art of story
The decline of story in contemporary film
Story design: the meaning of story, the substance of story, the limitations and inspirations of story structure & genre, the debate between character vs story design
Premise Idea, Counter Idea, Controlling Idea
Story Structure: beat, scene, sequence, act, story
Mapping the Story universe: Archplot, Miniplot, Antiplot
Shaping the source of story energy and creation
Day 2 : 9:00 AM- 7:00 PM
---
Putting the elements of story together
The principles of character dimension and design
The composition of scenes
Titles
Irony; Melodrama
False endings
The text: description, dialogue, and poetics
The spectrum of story genres
Day 3 : 9:00 AM- 7:00 PM
---
Act design: the great sweep and body of story
The first major story event (the inciting incident)
Scene design in Story: turning points, emotional dynamics, setup/payoff, the nature of choice
Ordering and linking scenes
Exposition: dramatizing your characters, the story setting, creating back story
The principles of antagonism
Crisis, climax and resolution
Day 4 : 9:00 AM- 7:00 PM
---
Story adaptations
Scene analysis: text and sub-text; design through dialogue versus design through action
The writer's method: working from the inside out; the creative process from inspiration to final draft.
How it all works: the principles of the previous 3-1/2 days applied in a 6-hour, scene-by-scene screening and analysis of CASABLANCA
The spectrum of story genres
Day 5 : 9:00 AM- 7:00 PM
---
TV SERIES DAY
THE ART OF THE LONG FORM
Storytelling on television has entered a new era - its Golden Age. Robert McKee's all-new TV Series Day brings you the tools and the knowledge to master the television's long form storytelling challenges. McKee says that if her were a young writer, he would work in television, which has
progressed further than the big screen in recognizing the importance of writers, giving them creative power and financial reward. This is why today's best writing is on TV. The long form TV Series is the evolution of the epic poem, begging for the character and plot complexity great enough to sustain 100 hours of story. The art of long form storytelling is an art all to itself.

On TV Day, Mr. McKee will show and analyze BREAKING BAD's Season 4 finale "FACE OFF". If possible, he asks everyone to watch all 62 episodes prior to the seminar. If you don't have time, make sure to watch at least the Season 4 finale and a couple of episodes leading up to it.

STORY SEMINAR
Cinema : LE BALZAC
1 rue Balzac 75008 Paris - France

Subway : 1 - 2 -6
Bus : 22 - 30 - 31 - 52 - 73 - 92
Rer : A
Masterclass LES OUTILS DE LA NARRATION de Christopher Vogler sur Facebook
Masterclass STORY de Robert McKee sur Facebook
Agenda des formations
Contact Formations
Une question ?
Contactez le responsable-formations :

Tél. : 01 49 70 89 52
Fax : 01 49 70 02 15
Email : accès à l'email
Newsletter
Suivez toute notre actualité grâce à la lettre d'information Dixit.