The Essence of Storytelling


(Les Outils de la Narration)
March 10th - March 12th (3 days) in Paris

Paris Champs Elysées





Christopher Vogler's The Essence of Storytelling Seminar
The workshop is in english, with a simultaneous translation in french

From sources as varied as vaudeville, Russian tales, Greek comedies, fairy tales, and many films Christopher Vogler provides really efficient tools for storytelling and series of practical templates to conceive universal stories for all kinds of publics.
He relies on the exceptional work of the researcher and philosopher Joseph Campbell who, by studying the mythical heroes of the world highlights the common model of all the stories that have been passed down over time, from the most trivial to the classics of literature.
The mythical heroes, their story, their path, are source of universal structural elements. Their nature adjust to every culture, every time, every age and highlight emotions and motivations that everybody felt one day or an other : self-confidence, style, sex-appeal, anger, greed, power, revolt, revenge, murderous desire, patriotism, seduction, idealism, sacrifice, egotism, distress, love, jealousy, daring, ambition, possession, mourning which can explain the federative power on the audience.
Vogler's workshop will cover the essential story structure outline of the 12-stage Hero's Journey, the eight major archetypes of character, and strategies for deepening the audience's involvement in the story.
Christopher Vogler's workshop is based on The Hero's Journey, the path of a man or a woman, on the outside ordinary, who is going to be dragged away from his familiar world to face a problem, to take up a challenge or live an outstanding adventure.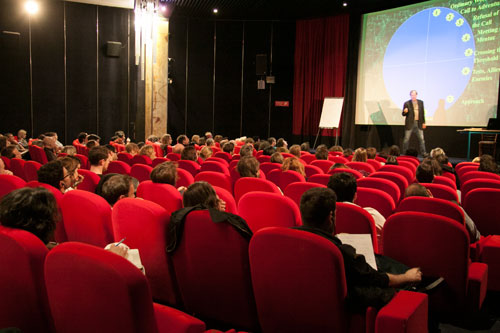 Endorsements
"I teach sometimes, and always say that Chris Vogler is the first book that everyone's got to read."
- Darren Aronofsky, Oscar-nominated Writer/Director, Black Swan, The Wrestler, Requiem For A Dream
"A seven-page memo by Christopher Vogler is now the stuff of Hollywood legend. The idea of a 'mythic structure' has been quickly accepted by Hollywood, and Vogler's book graces the bookshelves of many studio heads."
- Los Angeles Times
"Full of insight and inspiration...for both the amateur and professional..."
- Richard D. Zanuck , Producer, Alice In Wonderland, Yes Man, Big Fish, The Book of Eli, Driving Miss Daisy (for which he received the Oscar)
"Vogler is about the stories we write, and perhaps more importantly, the stories we live. It is the most influential work I have yet encountered on the art, nature, and the very purpose of storytelling."
- Bruce Joel Rubin , Oscar-winning Screenwriter, The Time Traveler's Wife, Deep Impact, Ghost
"One of the most valuable tools in understanding and appreciating the structure of a plot that's available today. The Writer's Journey is an essential tool to any writer at any stage of their career"
- Debbie Macomber , Bestselling author with 42 million books in print
Interview with Christopher VOGLER :
Feedback from participants :